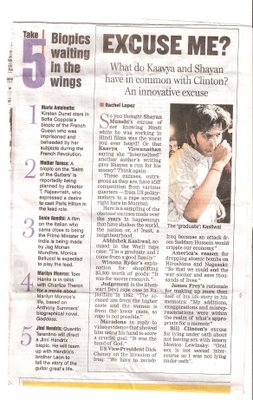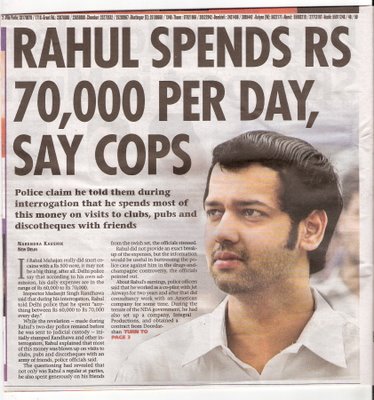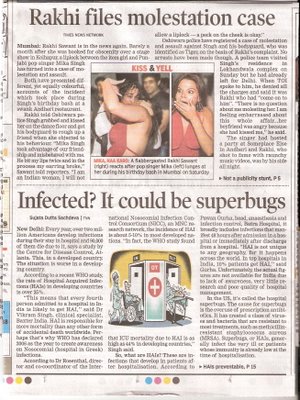 HIGH RESOLUTION PICSclick on pic to read

And here it is... the worlds funniest joke
Two hunters are out in the woods when one of them collapses. He doesn't seem to be breathing and his eyes are glazed. The other guy takes out his phone and calls the emergency services.
He gasps: "My friend is dead! What can I do?" The operator says: "Calm down, I can help. First, let's make sure he's dead." There is a silence, then a gunshot is heard. Back on the phone, the guy says: "OK, now what?"

Wiseman said the joke worked across many different countries and appealed to men and women and young and old alike.
"Many of the jokes submitted received higher ratings from certain groups of people, but this one had real universal appeal," he said.
As well as identifying the joke which appealed most to people around the world, the experiment revealed wide humour differences between nations.
People logging onto the LaughLab Web site were invited to rate jokes using a "Giggleometer" which had a five-point scale ranging from "not very funny" to "very funny".

One intriguing result was that

Germans

-- not renowned for their sense of humour -- found just about everything funny and did not express a strong preference for any type of joke. (
Full story
)
People from the

Republic of Ireland, the UK, Australia and New Zealand

most enjoyed jokes involving word plays.


Many European countries, such as France, Denmark and Belgium,

displayed a penchant for off-beat surreal humour, while Americans and Canadians preferred jokes where there was a strong sense of superiority -- either because a character looks stupid or is made to look stupid by someone else.
Europeans also enjoyed jokes that involved making light of topics that make people feel anxious, such as death, illness and marriage.
Wiseman said: "These results are really interesting. It suggests that people from different parts of the world have fundamentally different senses of humour.
"Humour is vital to communication and the more we understand about how people's culture and background affect their sense of humour, the more we will be able to communicate effectively.
"Also, we find jokes funny for lots of different reasons. They sometimes make us feel superior to others, reduce the emotional impact of anxiety-provoking situations or surprise us because of some kind of incongruity.
"The hunters joke contained all three elements."
Bizarrely, computer analysis of the data also showed that jokes containing 103 words were thought to be especially funny. The winning "hunters" joke was 102 words long. (An abbreviated version was told in this story.)
Many jokes submitted contained references to animals. Jokes mentioning ducks were considered particularly funny.



Have you heard the one about....
Oct 3 2002
By John von Radowitz

Here are the jokes judged funniest by people from different countries around the world.
TOP JOKE IN WALES. A turtle was walking down an alley in New York when he was mugged by a gang of snails. A police detective came to investigate and asked the turtle if he could explain what happened. The turtle looked at the detective with a confused look on his face and replied "I don't know, it all happened so fast."
TOP JOKE IN ENGLAND. Two weasels are sitting on a bar stool. One starts to insult the other one. He screams, "I slept with your mother!" The bar gets quiet as everyone listens to see what the other weasel will do. The first again yells, "I SLEPT WITH YOUR MOTHER!" The other says, "Go home dad you're drunk."
TOP JOKE IN SCOTLAND. I want to die peacefully in my sleep like my grandfather. Not screaming in terror like his passengers.
TOP JOKE IN NORTHERN IRELAND. A doctor says to his patient, "I have bad news and worse news".
Story continues


"Oh dear, what's the bad news?" asks the patient.
The doctor replies: "You only have 24 hours to live."
"That's terrible," said the patient. "How can the news possibly be worse?".
The doctor replies: "I've been trying to contact you since yesterday."
TOP JOKE IN UK. A woman gets on a bus with her baby. The bus driver says: "That's the ugliest baby that I've ever seen. Ugh!" The woman goes to the rear of the bus and sits down, fuming. She says to a man next to her: "The driver just insulted me!" The man says: "You go right up there and tell him off - go ahead, I'll hold your monkey for you."
TOP JOKE IN USA. A man and a friend are playing golf one day at their local golf course. One of the guys is about to chip onto the green when he sees a long funeral procession on the road next to the course. He stops in mid-swing, takes off his golf cap, closes his eyes, and bows down in prayer. His friend says: "Wow, that is the most thoughtful and touching thing I have ever seen. You truly are a kind man." The man then replies: "Yeah, well we were married 35 years."
TOP JOKE IN CANADA. When Nasa first started sending up astronauts, they quickly discovered that ball-point pens would not work in zero gravity. To combat the problem, scientists spent a decade and 12 billion dollars to develop a pen that writes in zero gravity, upside down, underwater, on almost any surface including glass and at temperatures ranging from below freezing to 300 C. The Russians used a pencil.
TOP JOKE IN AUSTRALIA. This woman rushes to see her doctor, looking very much worried and all strung out. She rattles off: "Doctor, take a look at me. When I woke up this morning, I looked at myself in the mirror and saw my hair all wiry and frazzled up, my skin was all wrinkled and pasty, my eyes were bloodshot and bugging out, and I had this corpse-like look on my face! What's WRONG with me, Doctor!?"
The doctor looks her over for a couple of minutes, then calmly says: "Well, I can tell you that there ain't nothing wrong with your eyesight...."
TOP JOKE IN BELGIUM. Why do ducks have webbed feet? To stamp out fires. Why do elephants have flat feet? To stamp out burning ducks.
TOP JOKE IN GERMANY. A general noticed one of his soldiers behaving oddly. The soldier would pick up any piece of paper he found, frown and say: "That's not it" and put it down again. This went on for some time, until the general arranged to have the soldier psychologically tested. The psychologist concluded that the soldier was deranged, and wrote out his discharge from the army. The soldier picked it up, smiled and said: "That's it."

TOP JOKE IN INDIA has to be a sardarji joke
Is this the top joke in Wales? Have your say on our messageboard