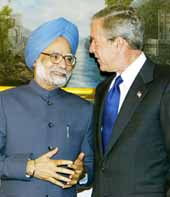 All Smiles For Now
India to defy US before PM visits Washington
G-4 Nations To Force Vote For UNSC Seats
By Chidanand Rajghatta/TNN
http://epaperdaily.timesofindia.com/Daily/skins/TOI/navigator.asp?Daily=TOIM

Washington: India, along with Japan, Germany and Brazil, will force a vote in the UN general assembly next month to win permanent Security Council seats despite opposition from the United States and China.



The decision could cast a shadow over the July 17-20 bilateral visit to Washington by Prime Minister Manmohan Singh, since the contentious vote is likely to come just ahead of the trip.



Foreign ministers from the Group of Four nations—India, Germany, Japan and Brazil—including India's Natwar Singh, who met on the sidelines of an international conference in Brussels, decided on Wednesday to introduce the text of their resolution calling for the addition of six more permanent members, including two from Africa, to the UNSC.



German foreign minister Joschka Fischer confirmed the plan for a July vote, telling reporters in Brussels that there was a "joint opinion'' to push ahead with the resolution after the African Union and Caribbean states' summit meetings in the first week of June.



The African Union is meeting on July 4-5 and the Caribbean states will meet on July 3-6. Both groups are considered vital to the G-4 prospects of winning the vote, which needs a two-thirds majority in the 191-member general assembly.



China has said it will vote against the resolution and the US has said it will back the addition of only "two or so'' members, effectively pitting it also against the G-4 resolution.



In effect, Singh will be meeting Bush just days after the US would have rebuffed the G-4 and India would have defied US in forcing the vote.



The G-4 decision to table the resolution means that Japan and India have rejected the US bait to split the group with its "two or so'' proposal and opted to stay with Germany and Brazil.



Although the US has not knocked down India's claim—as it has done with Germany—it has not openly endorsed it either despite setting criteria that New Delhi is best suited to meet.

Washington's UN representative Anne Patterson once again publicly backed Japan for the UNSC seat on Wednesday but did not name any other country.



Washington's views on the subject will be conveyed to the Indian leadership when US undersecretary of state Nicholas Burns arrives in New Delhi on Friday. ..